To determine the duty reduction or staging category that applies to a specific product, you must refer to the Tariff Schedule of Korea. The Tariff Schedule of Korea shows the harmonized schedule of Korea (HSK) tariff line number, a description of the product, the initial or base tariff rate and the staging category by which the base rate will be reduced. If the product is subject to a safeguard, it will be indicated in the safeguard column.

In Step 2, you identified the HSK tariff line code for ketchup as 2103201000. The 'base rate' column indicates the beginning tariff, usually in ad valorem terms unless specified otherwise. Ad valorem indicates the percentage of the value of the product that is accessed as the tariff or duty. For example, if $1000 worth of tomato ketchup were imported into Korea, Korean customs would assess 8 percent of $1000, or $80, as the duty. The staging category indicates how the duty will be phased out under the KORUS Agreement. Usually a letter appears in this column, but if there is a note referring to Appendix 2-B-1, see Step 4 below.

Based on the letter under the staging category, you can determine the applicable duty under the KORUS FTA. For a quick reference, you can refer to this unofficial Staging Category table, which shows you that Staging Category or Tariff Reduction Category 'D' means that the tariff will be eliminated in five equal reductions. For the initial tariff of 8 percent, each annual reduction would be equal to 1.6 percent. Since the first reduction will be made on implementation of the Agreement (Year 1 or 2012), the duty that will be applied when the Agreement goes into effect is 6.4 percent. On January 1 of the second year i.e. 2013, the duty would be reduced another 1.6 percent, or to 4.8 percent. In 2014 (Year 3) the duty would be 3.2 percent; in 2015 (Year 4) 1.6 percent. And on January 1, 2016 (Year 5), the duty on tomato ketchup would be eliminated; the U.S. product would enter duty-free.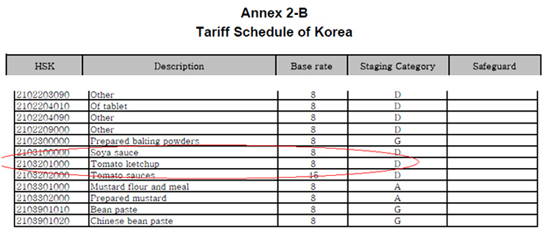 It is important to remember that:

(1) The first tariff reductions will take place upon implementation, or entry into force, of the Agreement. This will be considered Year 1. Subsequent reductions will take place on January 1 of each year. (2) Ad valorem tariff rates are rounded down to the nearest 0.1 percent. (3) Duties on products that are subject to safeguards (indicated in the 5th or Safeguard column of Annex 2-B) may change during the year. See Step 5 below.